How do I get to my business page within Facebook?
In order to have an ESP account you'll need to have a Facebook business page to post to. To get to your business page you'll want to go to Facebook and login to your personal account. In the left-hand column of your Facebook personal account you should have a Pages section. This is where you'll find your business page. If you don't already have a business page through Facebook, please see our article on creating a Facebook business page.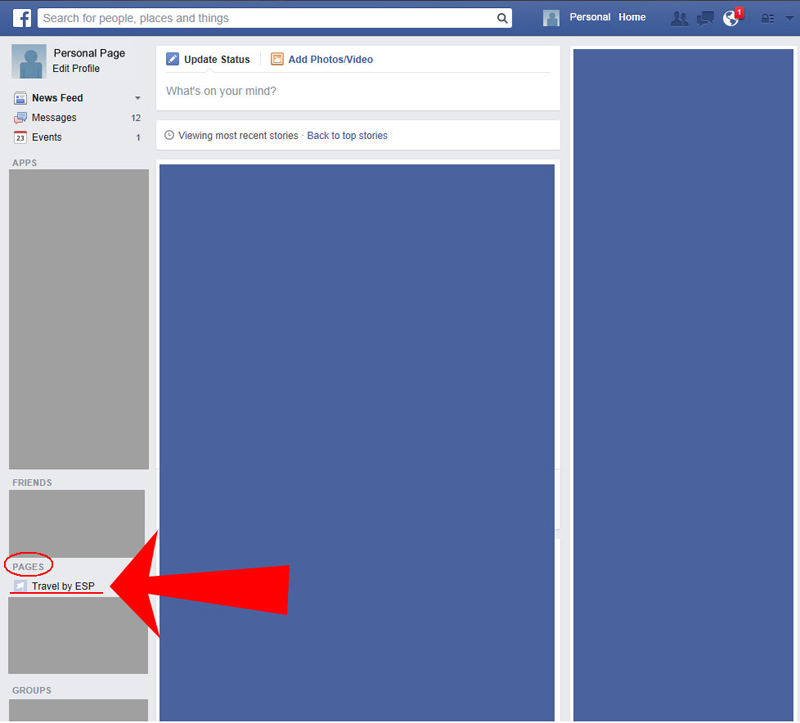 When will my posts go out and why at that time?
To see when your posts are set to go out, select Manage Posts.

This will bring you to a screen where you can see the posts that are currently queued in your account. You will see directly to the right of the post title, the time that it is set to go out.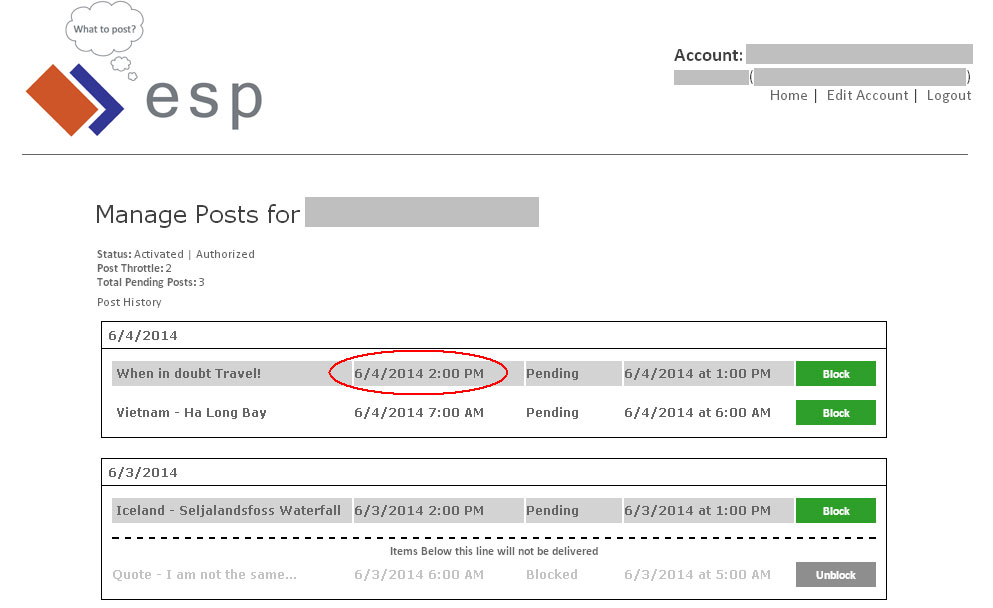 How do I block a post from going out?
Select Manage Posts to go to your post management page.

Furthest to the right of the post title you will find an option to Block your post from going out. Please note, you are not able to block a post once it is within an hour of the time it is set to go out.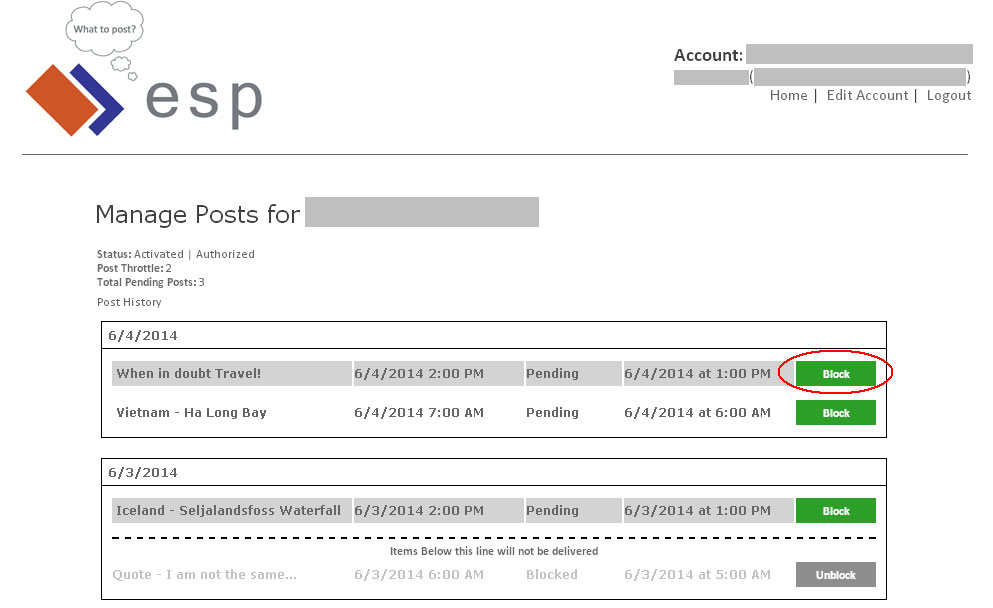 How do I change the Facebook page that my posts go to?
Select Manage Pages from your ESP home screen.

The pages that you have setup through your Facebook account will be shown under the "Facebook Pages" section on the next page. Simply uncheck the box in front of the page that you no longer want to post to and check the box in front of the page you do want to post to. Hit save.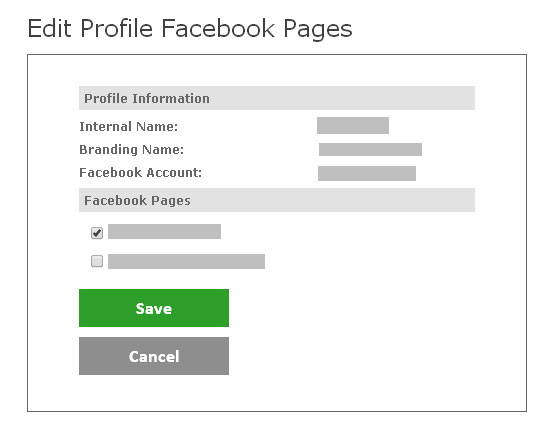 What is the Internal Name and the Branding Name?
Internal Name: you will most likely use the same name for both your internal and your branding name, unless you are having ESP post to multiple Facebook pages. Because it will not appear to customers, it is an easy way for you to be able to distinguish between pages. For example, you may use one Facebook page for promoting cruises and another for promoting land vacations. This allows you to name one "cruises" and the other "vactions" to quickly distinguish the two.
Branding Name: you will want to use your business name for this as it will appear to customers.
It looks like it's going to post to my personal page, how do I change that?
You will need to make some authorizations through your personal Facebook account. Don't worry, it is not going to post there! Because your Facebook business page is managed through your personal account, that is where the authorization needs to come from. Keep going through your setup, eventually you will be asked what page you actually want to post through.
I am getting "An error has occurred" message when trying to authorize my Facebook.
If your Facebook business page was originally set up independently from a personal Facebook account, you will have to do some extra steps before you can authorize ESP. (This is not very common as Facebook no longer allows business pages to be setup this way.)
Please note, if you don't already have a personal Facebook account you will need to create one first.
Log into your personal Facebook account and use the Facebook search feature at the top of the page to search for your business page. "Like" your business page.
Logout of your personal page and log back into your business page. At the top of your business page, select Settings.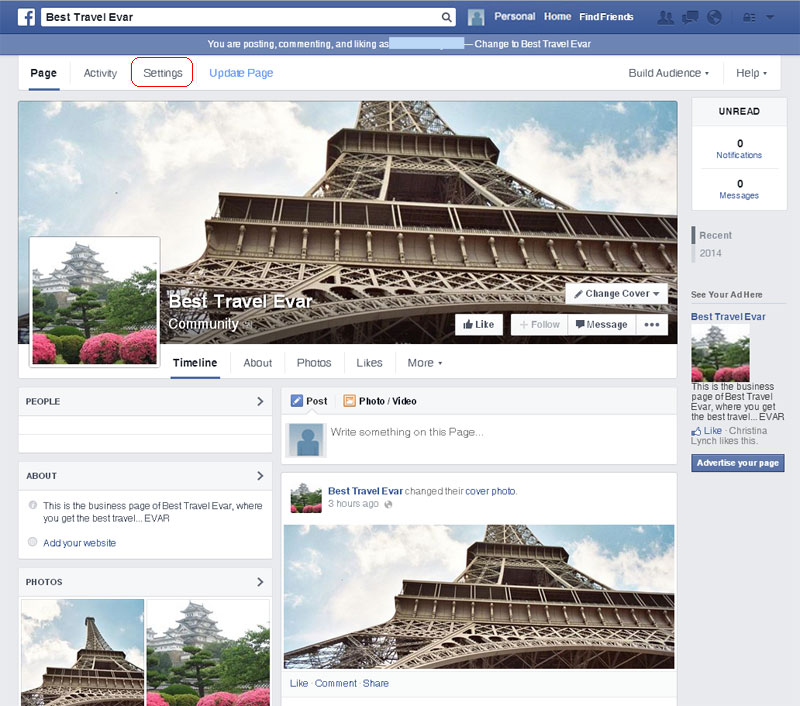 Select Page Roles on the left of the new page that opened.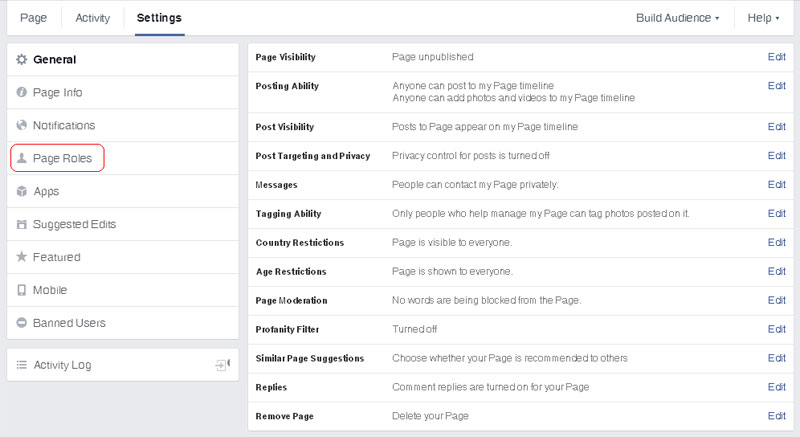 This will allow you to add your personal Facebook account as an admin to your Business Page. The role is defaulted to Editor, select that first which will drop down more options and select Admin. Where it says "Type a name or email..." you'll want to type in the email address that is tied to your personal Facebook account. It will ask you to verify that you are allowed to make changes by asking for your business page password. Once completed, Facebook will send a notification to your personal Facebook account.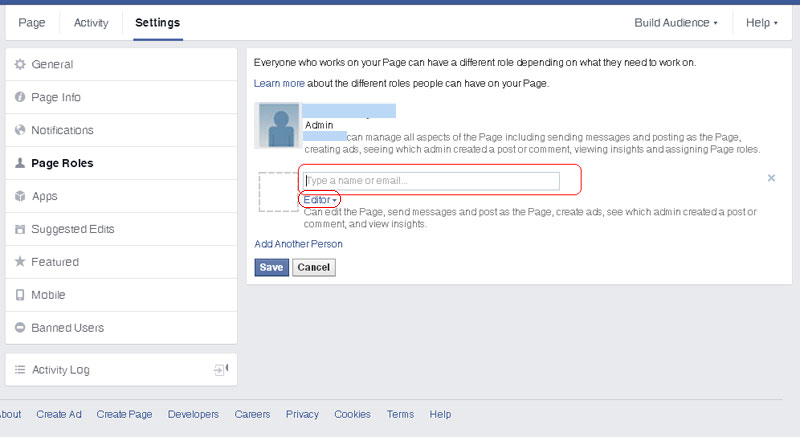 You're almost there! The last thing you'll need to do is logout of your business page and back into your personal account to accept your new page role to your business page. From there you'll be able to finish your ESP setup and just remember to use your personal Facebook account for ESP.
Can I repurpose any of the images in the posts?
The images used in ESP are licensed for social media use ONLY and can't be repurposed on another website/blog.
My posts were going through fine before, but they've stopped posting. How can I fix that?
If your posts were successfully posting before but you've recently noticed that they have stopped posting, you may need to re-authorize your Facebook page. This may have been caused by changes made to your Facebook account such as changing your password.
To re-authorize your Facebook page, first make sure that you have logged out of your Facebook account.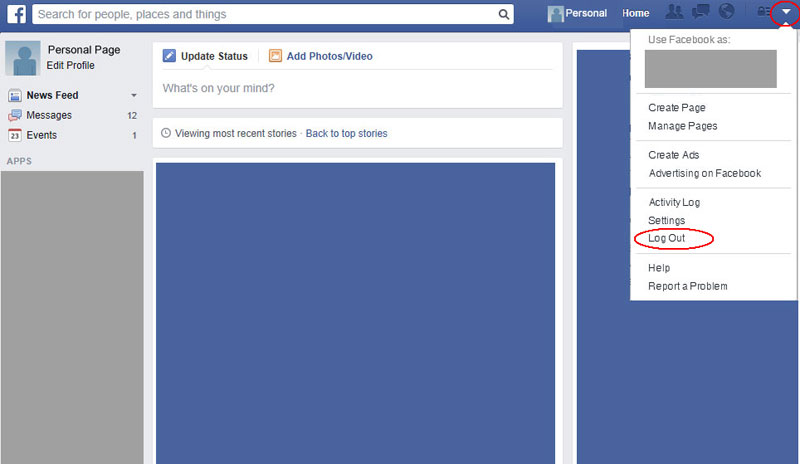 Once you've logged out of Facebook, go back to your ESP dashboard home, and select [Authorize]: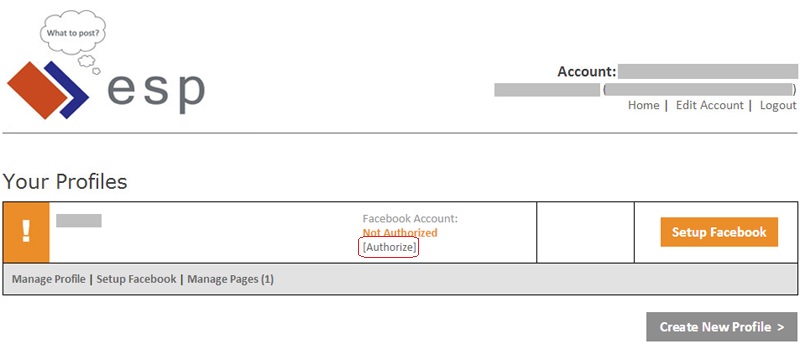 This will prompt you to re-authorize your Facebook account: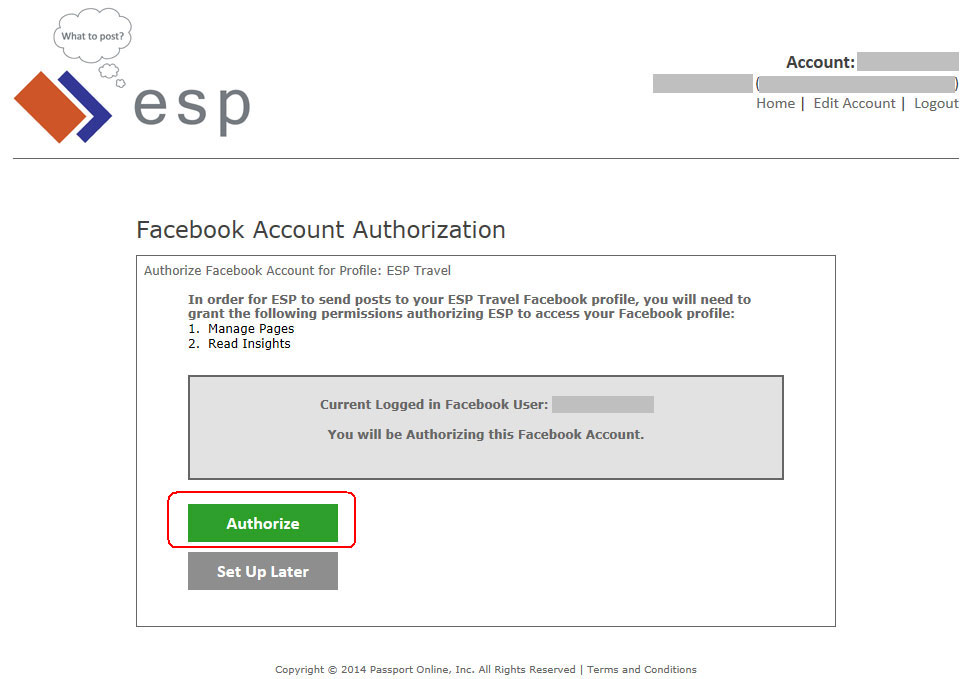 From there you will be taken through the authorization steps again, which should allow your posts to begin posting again.